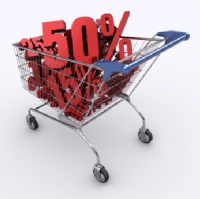 Bill has been with you as a patient just a little over a year. He originally found your practice by your web site. Had some minor perio issues which you've resolved through scaling and root planing visits. He has faithfully followed the three month recall intervals you recommended.
He's an upper level executive with a local Fortune 500 computer software company. Super sharp guy. Really nice guy. The kind you wish you had many many more of in your practice. Last week, at Bill's request, you presented a cosmetic makeover treatment plan including fee and financial options. Bill said he'd like to give it a week to think about it and rescheduled for a second consultation today. After some small talk Bill says... "Doc, I've got to level with you. I like you and your team and I'm sure you'll do a great job with my veneers. But I'm a business man first, and this is going to be a significant investment. If you could find a way to give me a break off the fee you quoted me last week, I'd seriously consider having you do the work..."
To Discount or Not to Discount Your Fees
Last week during a coaching call with one of my Gems Insiders' Circle members, the doctor told me that he had a similar situation to what I've just described above. Says he gave the patient 20% off 'cause he was pretty sure the patient would have gone down the street to the first dentist who would discount fees upon demand. My GIC member wanted to know if I'd have handled it any differently. I asked him if he'd ever done this for any other patients. Yep. In fact it was becoming somewhat of a routine and he was concerned.
Intentionally or not, we are training our patients what to expect and how to behave within our practices. When Bill asks you if you can do any better than the quoted fee and you respond by reducing the fee, you can be darned sure that Bill will be asking (and rightfully expecting) a discount the next time he needs treatment in your practice. Next year when Bill's wife, Mary, decides she too wants veneers, you can be certain Mary will hold you to the discounted fees you offered Bill. Then there's the issue of Bill and Mary's coworkers and friends. Don't think for a moment that when Mary tells Cindy at work about you, that she won't also tell her to ASK FOR A DISCOUNT.
Then there are the folks in the waiting room who overhear the conversation with your business staff... and the guy in the next operatory who overheard the entire conversation between you and Bill. You TRAIN YOUR PATIENTS. Intentionally or not. Set your fees where you believe they ought to be in order to reflect your level of care skill and judgment. Set your fees where you believe they should be in order for you to make the profit you desire (deserve).
Ya Sure. But What About Those of Us Practicing in the Real World?
Good point. If you are practicing in an area where patients are asking if you can "do a little better" on your fees, then saying NO to the question (no matter how you try to impress upon them the value of your services) will result in the loss of some not-insignificant number of potentially profitable cases. In the real world, when they're looking for a break, and when they know the next guy will even if you won't... you've got to be able to say YES when they ask if you can give them a break. So how the heck can you say YES and give them a break and NOT train your patients that they can bargain with you over your fees?
Give Patients a Break on a Big Case WITHOUT Discounting Your Fees
The strategy I'm about to share with you WORKS. Of course nothing works all the time. But you will be thrilled you came upon this Gem the next time a patient asks you to discount your fees off a decent case that you'd really like to perform.
Best Possible Fee.
"Bill, although from the bottom of my heart I can say that our fees reflect the fairest VALUE based upon the highest quality of treatment and service, we are unable to deliver the level of uncompromised service and treatment that I'm sure you desire and I believe you deserve… and do so at reduced or "compromised" fees. In all my years in practice I've found you can take your pick… best two out of the three. Best Service. Best Quality of Treatment. Lowest/Best "Price." But you will never find all three in the same place at the same time." Of course all the "spin" in the world may not suffice when he's looking for a break financially...
Offer Him a Break WITHOUT Compromising Your Treatment Fee
If you're faced with a question like Bill's, always start with the above verbal skills. Psychologically it sets the scene for the patient to assume that you are not going to offer them any better deal on the fee for their treatment. Actually, you're not! Instead, you're about to offer them something that I firmly believe is a better alternative for all parties involved. For those patients who just want to get the best possible value and would like to "feel" they got just a little bit more than perhaps they expected they deserved… "Bill, although I'm unable to compromise my treatment fees and still deliver the highest level of care, there is something I can do for you. Ultimately you are investing in and depending upon this treatment to afford you the best possible long-term health. Your care is not over when treatment is completed. In order to be certain you have the best chance at maintaining top health for the long-term, continuing preventive and maintenance care is an essential part of your investment.
Even if the patient has dental insurance, his insurance won't cover the every other 3 month cleanings, the fluoride treatments four times per year, or the host of other adjunctive services and products that we routinely recommend and sell to patients who have undergone extensive restorative care. Just how many months or years you offer COMPLIMENTARY INCLUDED PREVENTIVE treatment, services and products would depend upon the value of the case. Relatively small case, shorter time period. Huge case, longer period. Just establish a fair balance between case fee and dollar value of complimentary preventive maintenance offered.
Adding this strategy to your armamentarium greatly increases the likelihood that you will be able to keep more great cases in your practice versus allowing them to walk down the street to your competition. Although you are giving them a financial break, you are never discounting your restorative fees. PLUS, there is ultimately going to be "breakage" of at least some of the preventive services... i.e., not every patient will faithfully return every 3 months to take advantage of everything you bundle into the complimentary preventive services and included products. Devil's advocate... if they do return and have their preventive visits as recommended, you will be training them for the future AND together you'll be creating the ultimate best chance of long-term health and maintenance of the care you've rendered.
Are you "just visiting" here on Planet Gems?!
Not a Gems Family Member Yet?
Would you like to
Reduce your dependence upon the Evil Insurance Empire?
Have the Gems Team and me train your team?
Enjoy increased new patient flow without spending a ton on advertising
Gain consistently higher case acceptance on a wide range of treatment
Build a smoother operating team of ACCOUNTABLE happy folks
Help your patients achieve optimal health and longevity
Work LESS and make much MORE MONEY?!
Build WEALTH and AUTONOMY for you and your family?
LIMITED TIME OFFER
1/2 OFF Your 1st Month, Normally $497.00.
YOU'LL SAVE $250.00 Pay ONLY $247
For Your 1st Month, ZERO RISK.
FIRST MONTH FULL
MONEY BACK GUARANTEE !
STEP 1. Go to www.GemsAreEasy.com/303372
STEP 2. Listen to Dr. Brown's Story
STEP 3. CLICK "JOIN PLATINUM" BUTTON
One-time offer is available only to new members (you've never been a Gems Platinum Member before). Pay only $247 for your first month. The usual $497 monthly Platinum Fee will not be charged until your second month. No continuing obligation. If you are not 100% DELIGHTED, you may cancel at the end of your 1st month and request a FULL REFUND of the $247. Platinum Membership is month-to-month. You may cancel at anytime if you are not delighted.