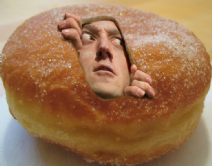 What do a bakery and your hygiene schedule have in common that could easily turn a weak falling apart middle of the day hygiene schedule into a highly profitable cash generating machine?
Is your practice suffering from either one of these profit-sucking problems?
Your hygiene schedule is solid at the beginning of the day. Things looked great at 8:00am. But it's all downhill from there! Two or three call just minutes before their appointments (that may make them feel better but it for sure doesn't help you one iota!) Others don't even have the decency to call. They simply NO-SHOW.
Worse than the first option above, you're no longer able to keep the middle of the day full even at the opening bell. Right from the start you know in advance you're about to lose your shirt in hygiene more days than you'd care to count.
Traditional Hygiene Scheduling = Salmon Swimming Upstream
Have you ever taken a close look at which hygiene hours are by far the easiest to fill? And not coincidentally those same hours are the least likely to become no-shows and last-minute cancellations? Sure, it's too easy. Early morning and late afternoon/evening appointments. And why is that? It's cause the worse our economy has become, the more our patients are fearing the LOSS of THEIR JOBS. Bottom line is they may have been willing initially to "accommodate" you and schedule into the middle of the day... but many of them are unwilling to actually SHOW UP for those appointments.
There's a lot of stuff we do in our practices just 'cause that's the way we've always done it. I promise you that if you want to increase your new patient flow, existing patient retention, and overall net profit... you've got to be willing to make some changes. Changing things you've "always done this way." Changes that just might not be "comfortable." Up to you. There really is no one single thing I'd say you really have to do or you're gonna keep sliding backwards. But in order to grow and thrive in the new economy you and your team have got to be willing to try some new things. Break some old paradigms. What about the Salmon analogy? They swim upstream for days without eating. Spawn and die. If you are not enjoying consistently enormous net profit from your practice, scheduling hygiene the way you've always done it is very much like swimming upstream for days without eating... it's hazardous to the health of your practice.
Just Where Does the Bakery Fit into this Picture?
Almost everyone loves donuts. Yet there's a BIG HOLE right smack in the middle. If you are experiencing blown out middle of the day hygiene schedules consider making the following radically simple change... STOP OFFERING hygiene hours in the middle of the day! That's right. Schedule hygiene from 7:00am to 10:00 am and from 4:00pm to 8:00pm! In speaking with my coaching members about this some hygienists loved this idea. If you've got a hygienist who, based upon her personal and family setup, is able to work the "Dougnut Hygiene Schedule" awesome! If not, perhaps you could work out a schedule with two hygienists, one of whom likes the early morning hours and the other who can do late afternoon 'till 8:00pm. Heck, 8:00pm really isn't that late. For many years in order to be super accommodating with a PATIENT-FRIENDLY schedule, my hygienist and I saw patients until 10:00pm two nights per week, and opened two mornings per week at 7:00am.
Are you "just visiting" here on Planet Gems?!
Not a Gems Family Member Yet?
Would you like to
Reduce your dependence upon the Evil Insurance Empire?
Have the Gems Team and me train your team?
Enjoy increased new patient flow without spending a ton on advertising
Gain consistently higher case acceptance on a wide range of treatment
Build a smoother operating team of ACCOUNTABLE happy folks
Help your patients achieve optimal health and longevity
Work LESS and make much MORE MONEY?!
Build WEALTH and AUTONOMY for you and your family?
LIMITED TIME OFFER
1/2 OFF Your 1st Month, Normally $497.00.
YOU'LL SAVE $250.00 Pay ONLY $247
For Your 1st Month, ZERO RISK.
FIRST MONTH FULL
MONEY BACK GUARANTEE !
STEP 1. Go to www.GemsAreEasy.com/303372
STEP 2. Listen to Dr. Brown's Story
STEP 3. CLICK "JOIN PLATINUM" BUTTON
One-time offer is available only to new members (you've never been a Gems Platinum Member before). Pay only $247 for your first month. The usual $497 monthly Platinum Fee will not be charged until your second month. No continuing obligation. If you are not 100% DELIGHTED, you may cancel at the end of your 1st month and request a FULL REFUND of the $247. Platinum Membership is month-to-month. You may cancel at anytime if you are not delighted.