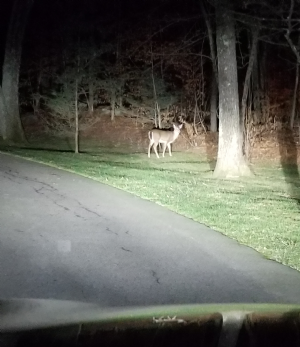 A deer in the headlights. Is literally what I saw in front of my car last night in the driveway. Figuratively, it's what's happening to dentists in the headlights of the Evil Insurance Empire.
Managed care is great for insurance companies. They are making a FORTUNE off the BACKS OF DENTISTS. Managed care is good for employers who want to offer dental insurance as a benefit without paying a fortune for it. For patients, it's not so great, but for dentists, it is one of the toughest problems we face in private practice today.
ACHILLES HEEL THE PPOS HOPE YOU NEVER DISCOVER
I made a discovery when my father was dying of cancer and he asked Elizabeth and me to turn his practice around in order to help provide financial security for my mother. I accidentally stumbled across the Achilles Heel of managed care Insurance Companies. It is a well-kept secret which helped us instantly garner FAR HIGHER FEES FROM PPOS. Fees much higher than they were willing to admit they would pay.
When we first took over my dad's practice he had 15 PPOs. Their contract fees required we write off between 18% and 26% of our full fees. My dad's fees were right smack in the middle of the range of fees for his community. And that was pretty low. Asking us to write off an average of 21% of everything we produced was tantamount to telling us we should work for free.
Fact is, he was losing money. He'd slipped so far behind that the day we took over the practice the bookkeeper sat down with Elizabeth and me and told us that she was concerned we were about to get shut down. They were $100,000.00 behind on the day to day bills. Lab, supply, etc.. If you've heard me speak about this, you may recall that I refer to that practice as my "Negative Inheritance!" On that first day, we wrote the bookkeeper a check for $100,000.00 so she could pay off all of the overdue bills.
MY DISCOVERY FROM WHICH YOU CAN PROFIT
At my dad's office we began to deploy the "Gems" I'd crafted in order to turn my own practice around just a few years prior. Part of my plan was to build enough full-fee-for-service new patient flow to allow us to jettison the PPOs one at a time. This is an IMPORTANT POINT... too many dentists make a knee-jerk reaction to pull out of one or more plans without any thought to what happens to cash flow in the absence of a well-crafted and deployed PLAN.
Again, our plan, which we carried out successfully, was to use both external marketing (specifically targeting NON-insurance patients) and motivate existing (non-PPO) patients to refer more often... to new patient flow and REPLACE the patients we may lose BEFORE we cut the cord. New patient flow grew, and we knew we were in a better position financially to be able to sustain the loss of patients that may occur as we withdrew from one or more plans.
LIGHT BULB MOMENT. Instead of sending the insurance companies the standard letter telling them we wanted out of their plans, I sent letters that said we really enjoyed treating their patients and appreciated the relationship with the insurance company, however due to rising costs to deliver appropriate care, at the fees they were paying we could no longer afford to deliver care as a network provider.
Then I would reference "Appendix A" which was a separate page enclosed with the main letter. In short, I told them that if they were unable to increase our contract fees to match those in "Appendix A", please accept this letter as my (e.g.) 90 day notice of leaving the plan. I did this on a lark. I never figured any of them would raise the fees much if any.
I WAS WRONG!
Sure, some of them said "Go pound sand, your 90 day notice is accepted. See ya." BUT... it turns out some of them were not only willing but ANXIOUS to pay me more. The "Gem" I accidentally discovered was how to figure out which insurance carriers need us more than we need them!
Like anything else in business, it's based upon the laws of supply and demand. The REASON that an insurer would tell me to "Go pound sand, we're not giving you another penny" is cuz that insurance company has way more providers than they need to satisfy the demand of the number of plans and employees on their plan they'd sold in my area.
It's the SAME REASON that about 1/3 of them told me that they really didn't want to lose me... and that they would be happy to pay me (much) more money! When a plan is oversold with respect to the number of employees on that plan vs. the number of dentist-providers in the area... that company is going to have a major problem on their hands. The last thing they can afford is to lose another provider.
A few things to remember. You must replace the patients before you lose them. Build a more robust new patient flow and you'll be in a far better position to pull this off. You can't be bluffing. It's not a game of chicken. If you tell them you're leaving if they don't pay you more, you gotta be willing to cut the cord and walk away from that plan if/when a particular company tells you no dice.
HOW TO LEAVE DELTA AND KEEP MOST OF THE PATIENTS
It's beyond the scope of this blog, but I have detailed every step of how I left Delta Dental and KEPT the vast majority of my Delta Patients. If you are a Gems Family Member, go to www.InsidersCircle.com => SITE MAP => ADDITIONAL RESOURCES => STRATEGIC DOCUMENTS. Scroll down to and read, "DELTA resignation letter to patients v3."
If you are not yet a Gems Family member...
Are you "just visiting" here on Planet Gems?!
Not a Gems Family Member Yet?
Would you like to
Reduce your dependence upon the Evil Insurance Empire?
Have the Gems Team and me train your team?
Enjoy increased new patient flow without spending a ton on advertising
Gain consistently higher case acceptance on a wide range of treatment
Build a smoother operating team of ACCOUNTABLE happy folks
Help your patients achieve optimal health and longevity
Work LESS and make much MORE MONEY?!
Build WEALTH and AUTONOMY for you and your family?
LIMITED TIME OFFER
1/2 OFF Your 1st Month, Normally $497.00.
YOU'LL SAVE $250.00 Pay ONLY $247
For Your 1st Month, ZERO RISK.
FIRST MONTH FULL
MONEY BACK GUARANTEE !
STEP 1. Go to www.GemsAreEasy.com/303372
STEP 2. Listen to Dr. Brown's Story
STEP 3. CLICK "JOIN PLATINUM" BUTTON
One-time offer is available only to new members (you've never been a Gems Platinum Member before). Pay only $247 for your first month. The usual $497 monthly Platinum Fee will not be charged until your second month. No continuing obligation. If you are not 100% DELIGHTED, you may cancel at the end of your 1st month and request a FULL REFUND of the $247. Platinum Membership is month-to-month. You may cancel at anytime if you are not delighted.