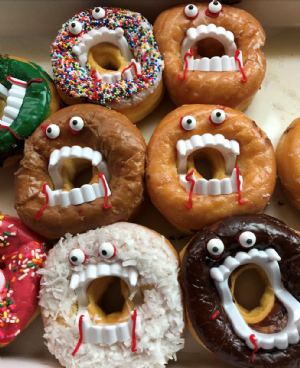 Some of the most effective marketing is what I like to call "Guerilla Marketing." Powerful strategies and tactics that just about no other dentist is doing. The fact that you are MARKETING IN A VACUUM makes these "Gems" that much more effective! And it doesn't matter where you are located!
One of our members practiced with his brother in a part of New York City known to have office buildings with more than 100 general dentists... per building! Admittedly they were in one of THE toughest areas in the world when it came to competition for new dental patients. Then they deployed one of my "Gems" I designed to enable any practice anywhere to attract new patients from local businesses. The brothers were shocked and amazed at how well such a simple (and FUN) strategy worked... right in midtown Manhattan!
You are about to discover one such Guerilla tactic... and BRAND NEW TWIST on a tried and true proven effective marketing Gem. The cost is MINIMAL and potential return (very) high. Best of all your team will LOVE... and may even fight over... who gets to deploy this Gem!
Dunkin Vampire Slays as New Patient Magnet
by Lisa Weber, GG12 Coach, RDH
Today I'd like to share a fun marketing strategy that should be one of the 6-8 things you are doing in October (and throughout the year!) to attract more new patients. It's quick, inexpensive, and has been very well received.
Once a week our marketing implementer visits 4 local businesses to introduce our practice to them. We always bring the local businesses some type of EDIBLE GOODIES from our office. Don't have a "marketing implementer?" No worries. This "Gem" can be deployed by ANY of your team members who enjoy meeting new people, can put on a BIG SMILE, and are PASSIONATELY PROUD of the care you deliver!
Before our marketing implementer goes out into the community, we spend a little time targeting exactly who she will visit each week. Last week and for the rest of this month it will be local chiropractors. Utilizing Google, we entered chiropractors in zip code 10549, and Google generated this list for us of 20 local Chiropractors.
During our first visit to a business, we always try to visit in the morning. Why? I want to bring breakfast food and coffee. Typically, we'll go to Dunkin Donuts and pick up a Box O'Joe and a dozen donuts. Each Box O'Joe serves approximately 10 small cups of coffee and includes cups and all other extra fixings. You can often find specials for the coffee and donuts.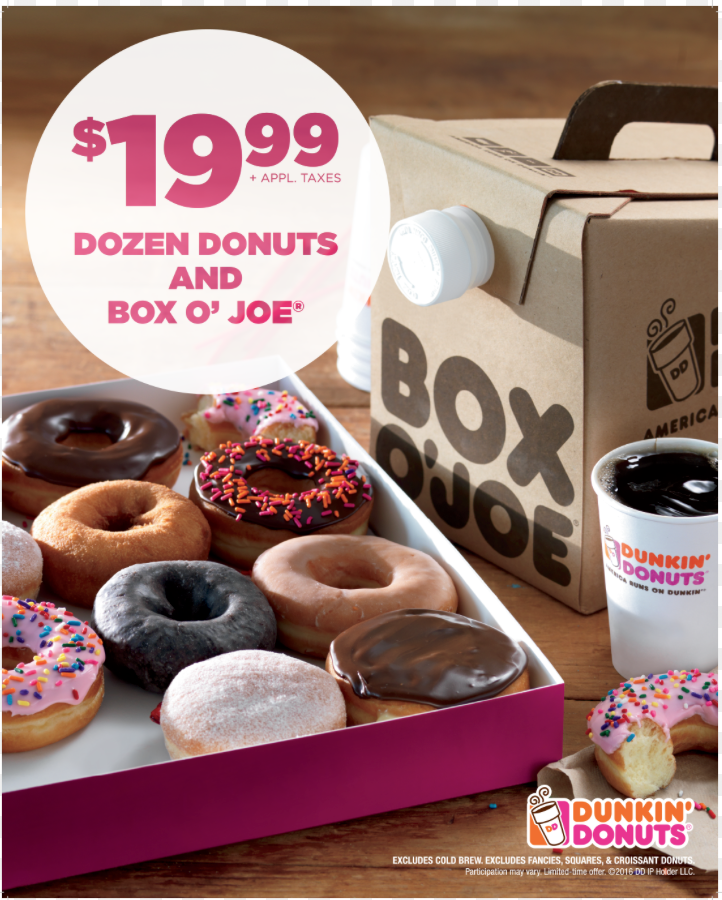 When visiting local businesses, we always keep a case of our GEMS' custom practice imprinted coffee mugs in the car.
Dunkin Vampires Local Business Verbal Skills - THE SCRIPT
When you enter the business, you should have your business card ready in your hand with the donuts, and coffee. I walk in and hand the person at the front desk business card and say the following:
"Hi, my name is Lisa, and I work at Westchester Dental Care. We're YOUR NEIGHBOR!
We are an amazing Dental Practice right down the street, and today, we are just coming out to meet our business neighbors. Dr. Abel said that he would like to sponsor your coffee break today. He asked me to drop off some donuts and coffee for your team if that's OK?"
At this point I hand them the donuts and coffee. Nobody EVER refuses the food! I ask them for one of their business cards and write the name of the person that I'm speaking to on the card. I then ask,
"How many people do you have on your team?" Before they can answer I say, "The reason I'm asking is that I have a few more goodies for you out in my car, and I just want to make sure that I have enough for everyone."
When she tells me how many team members including the owner they have, I note it on their business card, and I will go out to the car and bring in one of our custom coffee mugs for each person on their team. I want them drinking their coffee every morning while they look at our mug. It keeps us top of mind.
When I return inside with the mugs, I will ask them if they have dental insurance through their business. If they do, I will ask who it is with. If it's someone we are contracted with, I will be sure to let them know. If they don't I will tell them about our in office Dental Health Savings Plan, how it works, and leave some of our brochures.
The Irresistible Offer and Motivation to ACT NOW
Finally, I let them know about an irresistible offer we are running this month, only for our business neighbors, and ask if they'd like to take advantage of it.
"This month we are offering a FREE Exam and X-Rays for all Women age 21 to 121 because October is Breast Cancer Awareness Month, and the research has indicated a correlation between gum disease and Breast Cancer... and in most cases gum disease has NO SYMPTOMS."
This month, because it's October, we also decided to dress up the donuts for Halloween (but don't let that stop you from doing this every month!) The response to them so far has been amazing. Moms have expressed the desire to make these with their children, so I ask for permission to add them to our email list and let them know that I will send them links to the supplies for this project on Amazon. One Chiropractic office is now making them for their patients as well and will be handing them out for the rest of the month.
This is what our Halloween* Donuts look like:
*Use this now for Halloween but the SAME EXACT "GEM" will work throughout the year!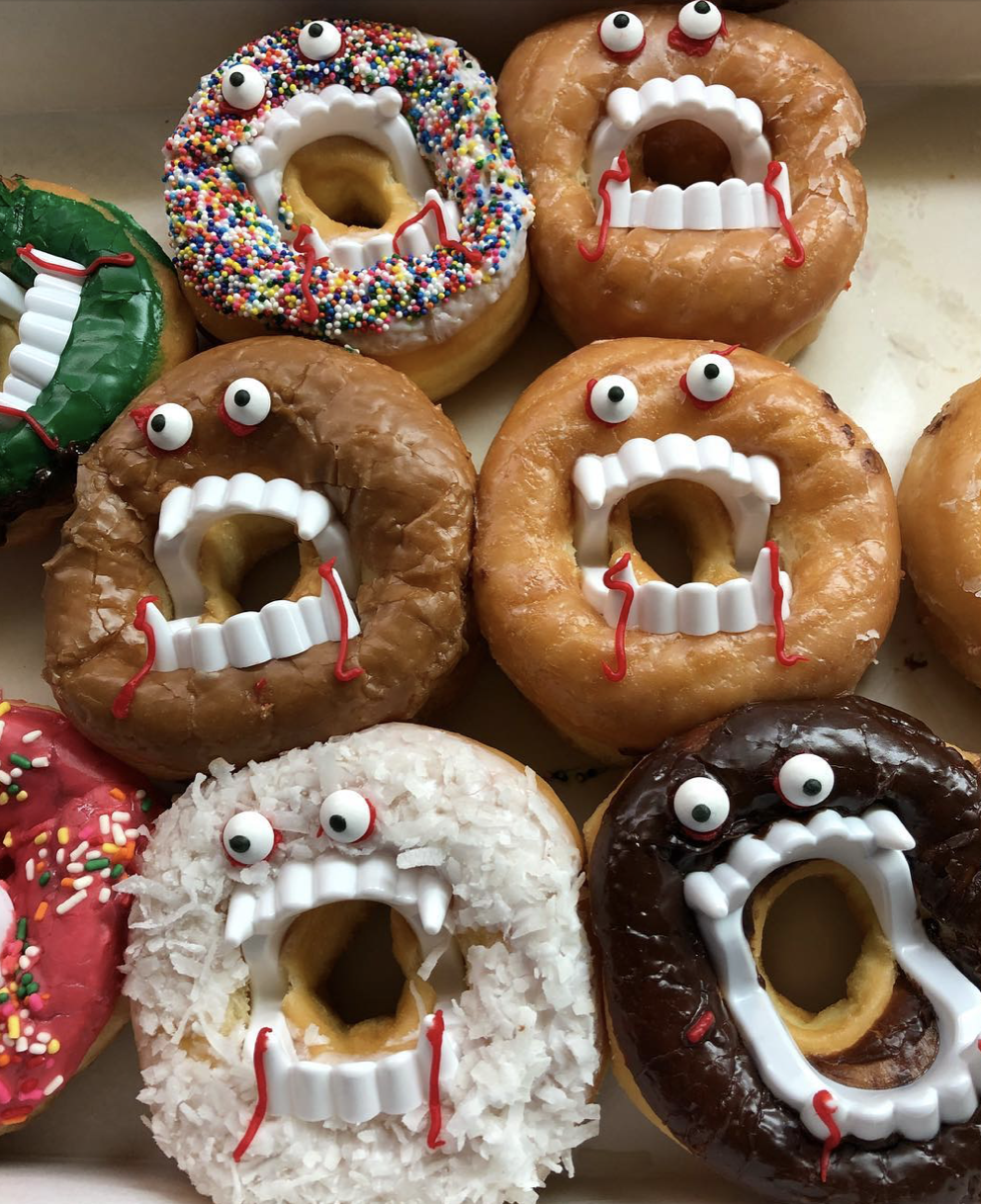 They are definitely REMEMBERING who we are.
What You Need for this Project:
Donuts - Dunkin Donuts Dozen Donuts
Coffee - Dunkin Donuts Box O'Joe
Wilton Red Gel to glue the eyes on - Amazon

Closing Script
When I leave I thank them for their time and say the following:
"It was so nice meeting you today. Would it be OK if I stop back in a few weeks with some more goodies for you?" The answer is always yes.
When I, or our marketing implementer gets back to our office we enter all the info that we have obtained from the visit on a spreadsheet. This way we can keep track of who we saw, whether they scheduled an appointment, if they have insurance, and if so, who it's with, how many employees they have, what we brought, what we've spent, and over time, how many patients we got from that particular business. We also make a note about when to revisit each business.
Be sure to try this project! It's fun, it's inexpensive, and best of all it's memorable. Finally, it definitely puts you "top of mind" with the local businesses you visit, and that's right where you need to be!
EDITOR'S NOTE:
As always Lisa comes up with amazing imaginative ways to attract more new patients, have fun, and make more money! Her twist on the original "Brazilian Project" (my team performing similar outreach ventures into the local business community) is beyond brilliant... it's FUN and PROFITABLE!
Want RESULTS ON STEROIDS?
Be sure to give your team member ADDED INCENTIVE. We know it costs, on average, about $250 per new patient acquisition across a wide range of more traditional media. Even $300 to $400 invested to acquire each new patient can be very profitable in many practices.
In addition to the hourly pay for the time spent deploying this, offer your team member $100.00 BONUS for each new patient who visits your practice as a direct result of the Dunkin Vampire outings. Explain that the bonus will be paid when the new patient visits the practice and has treatment for which you collect in excess of $100.00.
If they brought in two new patients per week each of whom spend more than $100.00, they'd bonus $200.00 per week x 50 weeks = $10,000.00 BONUS per year!
Are you "just visiting" here on Planet Gems?!
Not a Gems Family Member Yet?
Would you like to
Reduce your dependence upon the Evil Insurance Empire?
Have the Gems Team and me train your team?
Enjoy increased new patient flow without spending a ton on advertising
Gain consistently higher case acceptance on a wide range of treatment
Build a smoother operating team of ACCOUNTABLE happy folks
Help your patients achieve optimal health and longevity
Work LESS and make much MORE MONEY?!
Build WEALTH and AUTONOMY for you and your family?
LIMITED TIME OFFER
1/2 OFF Your 1st Month, Normally $497.00.
YOU'LL SAVE $250.00 Pay ONLY $247
For Your 1st Month, ZERO RISK.
FIRST MONTH FULL
MONEY BACK GUARANTEE !
STEP 1. Go to www.GemsAreEasy.com/303372
STEP 2. Listen to Dr. Brown's Story
STEP 3. CLICK "JOIN PLATINUM" BUTTON
One-time offer is available only to new members (you've never been a Gems Platinum Member before). Pay only $247 for your first month. The usual $497 monthly Platinum Fee will not be charged until your second month. No continuing obligation. If you are not 100% DELIGHTED, you may cancel at the end of your 1st month and request a FULL REFUND of the $247. Platinum Membership is month-to-month. You may cancel at anytime if you are not delighted.