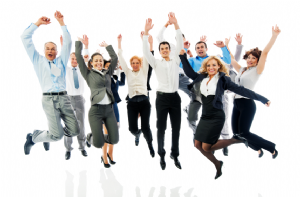 What if you could unearth a seldom-tapped deep (nearly endless) source of potential new team members... a source filled with people EAGER to WORK... willing and ABLE to learn just about anything you require of them. And just what if these folks were HAPPY to work for wages the likes of which you've not seen in dentistry since light cured composites were invented?
Well there IS such a source and very likely nearby your practice. Once I discovered this unpolished "Gem" I continued to draw time and again from this abundant well. I found them to be excited to work with us, passionate about and adept at learning. These were some of the best and brightest team members with whom I had the pleasure of working in my practices. Not only will you enjoy having these folks with you but your existing team members are guaranteed to WELCOME them with OPEN ARMS!
WHO ARE THEY AND FROM WHAT PLANET DO THEY COME?!
They are local High School students! Not only can they be an amazing addition to your team, but folks in your community keep making more and more of them every year! The supply is literally ENDLESS!
What can they do in your practice? They can learn and do just about anything that's legal to do in your state. Of course always check with your HR attorney or CEDR, and know your licensing board regulations. Other than that they sky is the limit. Some of our best and brightest team members over the years were the folks we found while they were still in High School.
We found them so helpful that I typically had one in the front helping the business team and another in the back, helping the clinical folks. What they can do is limited only by your imagination and willingness to train... but the simple stuff with which to start them off could be:
Business (Front) Tasks:
Pull charts
File charts
Print routing slips
File EOBs
Greet and seat patients in reception area (CONCIERGE!!)
Serve patients drinks and snacks
Answer the phone (as 2ndary) then direct the call to FT team member
Empty the trash
Confirmation calls (or management of virtual confirmation system)
ANYTHING ELSE with which your business team could use help!
Clinical (Back) Tasks:
Bring patients from reception to operatory
Basic setup
Tear down and clean operatory
Sterilize instruments
Stock the rooms
Check-in lab cases
Empty the trash
Bring patients back to the front after care
In my practices our High School students typically worked from about 2pm or 3pm until 6pm or 7pm four to five days per week (and sometimes on the weekends as well). Even if you only have one student working just 3 hours 4 days per week... that's TWELVE HOURS of lower level work from which your highly skilled higher paid team member are FREED UP every week! Now your full time team members are available to help patients accept and schedule care... to convert prospects on the phone to patients in your chair, etc..
Reach out to the guidance counselors and/or advisors in your local Public High Schools, Private and Parochial Schools. Be sure to tell them the ONLY students you want them to refer are those who are HIGHLY MOTIVATED young men and ladies who have a "B" average or better. We usually paid about a dollar or so above the minimum wage and found that students were thrilled to have the opportunity to work in a professional environment instead of flipping burgers at McDonalds. Several of our "Student Interns" ended up coming back and working for us full-time after high school.
Remember... you're only one "Gem" away!
Are you "just visiting" here on Planet Gems?!
Not a Gems Family Member Yet?
Would you like to
Reduce your dependence upon the Evil Insurance Empire?
Have the Gems Team and me train your team?
Enjoy increased new patient flow without spending a ton on advertising
Gain consistently higher case acceptance on a wide range of treatment
Build a smoother operating team of ACCOUNTABLE happy folks
Help your patients achieve optimal health and longevity
Work LESS and make much MORE MONEY?!
Build WEALTH and AUTONOMY for you and your family?
LIMITED TIME OFFER
1/2 OFF Your 1st Month, Normally $497.00.
YOU'LL SAVE $250.00 Pay ONLY $247
For Your 1st Month, ZERO RISK.
FIRST MONTH FULL
MONEY BACK GUARANTEE !
STEP 1. Go to www.GemsAreEasy.com/303372
STEP 2. Listen to Dr. Brown's Story
STEP 3. CLICK "JOIN PLATINUM" BUTTON
One-time offer is available only to new members (you've never been a Gems Platinum Member before). Pay only $247 for your first month. The usual $497 monthly Platinum Fee will not be charged until your second month. No continuing obligation. If you are not 100% DELIGHTED, you may cancel at the end of your 1st month and request a FULL REFUND of the $247. Platinum Membership is month-to-month. You may cancel at anytime if you are not delighted.