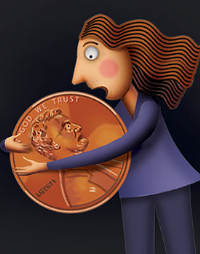 Purchasing mailing lists can be very expensive. Depending upon how many local residents you'd like to target with your mailing, you can spend well over a thousand dollars just to get access to the list.
Beyond the COST of the Lists, there's the Question of Quality
Although I have sources in whom I have the highest faith and trust, inevitably the majority of lists we purchase have a significant amount of DEADWOOD in them. Bad addresses, changed address, unknown addressee etc.. We always take all the returned mail and update our database, but even then, there's always many that come back with no further/forwarding information.
Heck, Elizabeth and I always pay for additional list services calls CASS and NCOA. With the United Stated Postal Service's NCOA (National Change of Address) you'd figure that would pretty much weed out the majority of the deadwood. It doesn't even come close. The bottom line is that no matter who you buy from and what additional services you pay to "clean" your lists, you're still missing a significant number of households... while paying a fortune for your lists.
United States Postal Service Offering Increases Effective Saturation and ELIMINATES the Need to Even Purchase a List
Let's say you've got a direct mail piece you'd like delivered to every resident within 5 miles of your practice. In other words, you want to do a "saturation" mailing. USPS now offers a service they call "Every Door Direct Mail." You have the ability to choose residential and business, or residents only.
What is Every Door Direct Mail?
The following is right from the USPS web site:
"Every Door Direct Mail enables you to extend your new patient acquisition reach via saturation mail without the need for mailing lists, permits, and the associated fees. With Every Door Direct Mail, you create a saturation mailing without applying individual names and addresses to each mail piece."
However...
Whether you use EDDM, FSIs (free standing inserts into the newspaper), Radio or Television... is all irrelevant unless you have an extremely well written advertisement which checks off all of the important boxes with respect to direct response marketing. Gems Insiders' Circle members, ask your Personal Gems Concierge to point out our "Advanced Marketing Brain Trust" vault of ads and marketing concepts on the members' website.
Warm regards,
tom
PS remember... you're only one Gem away!
Are you "just visiting" here on Planet Gems?!
Not a Gems Family Member Yet?
Would you like to
Reduce your dependence upon the Evil Insurance Empire?
Have the Gems Team and me train your team?
Enjoy increased new patient flow without spending a ton on advertising
Gain consistently higher case acceptance on a wide range of treatment
Build a smoother operating team of ACCOUNTABLE happy folks
Help your patients achieve optimal health and longevity
Work LESS and make much MORE MONEY?!
Build WEALTH and AUTONOMY for you and your family?
LIMITED TIME OFFER
1/2 OFF Your 1st Month, Normally $497.00.
YOU'LL SAVE $250.00 Pay ONLY $247
For Your 1st Month, ZERO RISK.
FIRST MONTH FULL
MONEY BACK GUARANTEE !
STEP 1. Go to www.GemsAreEasy.com/303372
STEP 2. Listen to Dr. Brown's Story
STEP 3. CLICK "JOIN PLATINUM" BUTTON
One-time offer is available only to new members (you've never been a Gems Platinum Member before). Pay only $247 for your first month. The usual $497 monthly Platinum Fee will not be charged until your second month. No continuing obligation. If you are not 100% DELIGHTED, you may cancel at the end of your 1st month and request a FULL REFUND of the $247. Platinum Membership is month-to-month. You may cancel at anytime if you are not delighted.