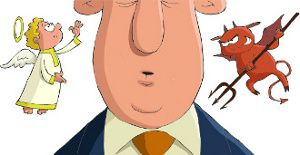 Have you ever tried to figure out why many patients fail to schedule recommended (and sorely needed) treatment? Recently I spoke with Fred, a general dentist in practice for 37 years. He's given this issue a lot of thought. Fact is Fred pretty much NAILED the WHY.
Fred figured out why many patients don't take action. Why they allow things to get worse. Dental diseases are progressive. Even though Fred put his finger on the WHY... he had yet to discover the "HOW." How to present best option care in a manner that
A) Dramatically increases the likelihood of acceptance by the patient, and,
B) Solves the ETHICAL (and potentially LEGAL) DILEMMA of offering only best option care.
A Surefire Recipe for Case Rejection
Whether or not he was aware of the marketing research, Fred identified and understood of one of the most common reasons patients don't move forward with recommended care. Too many options. For 37 years he'd done as instructed in dental school and had been offering most patients at least three options. Kind of a "good, better, best."
On the surface that approach makes good sense. Let patients know that there are several options. During our coaching call he revealed a deep frustration with this approach. By the time patients sat through the 3rd option their eyes glazed over and they became paralyzed with CONFUSION. He hit the nail on the head. Confused patients don't schedule care.
Is it Ethical to Offer ONLY Best-Option Care
I'm not an attorney and can't give you legal advice, so, I'd recommend that you run this concept by your attorney. But my personal belief is that it's our responsibility to help patients achieve their very best possible health. Most of us fall critically short of achieving this. It's not that dentists aren't doing a great job performing the dentistry. The issue is that the dentistry most commonly offered is less than optimal long-term complete best-option dentistry.
Fred asked me if I believed there was an ethical way we can offer ONLY what we truly believe in our heart of hearts to be in our patients' very best health interest. My answer, YES. But you MUST let the patient make the decision to limit the discussion to the very best...
"Mrs. Smith, I'd like your permission to tell you what I feel would be the best possible treatment for your long-term health... the very best and most reliable and predictable dentistry... the same care I would recommend to my mother, my brother or for my children... the only care I would choose for myself. Would that be okay with you?"
Those are the words I shared with all of my patients throughout my career. The vast majority not only said yes, but expressed appreciation and gratitude. Was this the only key to patient acceptance of best option care. Hardly. But it is the very first step. Once you have your patients' permission to show them the very best possible care, then deploy a consistent system proven effective system to motivate them to accept and schedule that care.
Are you "just visiting" here on Planet Gems?!
Not a Gems Family Member Yet?
Would you like to
Reduce your dependence upon the Evil Insurance Empire?
Have the Gems Team and me train your team?
Enjoy increased new patient flow without spending a ton on advertising
Gain consistently higher case acceptance on a wide range of treatment
Build a smoother operating team of ACCOUNTABLE happy folks
Help your patients achieve optimal health and longevity
Work LESS and make much MORE MONEY?!
Build WEALTH and AUTONOMY for you and your family?
LIMITED TIME OFFER
1/2 OFF Your 1st Month, Normally $497.00.
YOU'LL SAVE $250.00 Pay ONLY $247
For Your 1st Month, ZERO RISK.
FIRST MONTH FULL
MONEY BACK GUARANTEE !
STEP 1. Go to www.GemsAreEasy.com/303372
STEP 2. Listen to Dr. Brown's Story
STEP 3. CLICK "JOIN PLATINUM" BUTTON
One-time offer is available only to new members (you've never been a Gems Platinum Member before). Pay only $247 for your first month. The usual $497 monthly Platinum Fee will not be charged until your second month. No continuing obligation. If you are not 100% DELIGHTED, you may cancel at the end of your 1st month and request a FULL REFUND of the $247. Platinum Membership is month-to-month. You may cancel at anytime if you are not delighted.