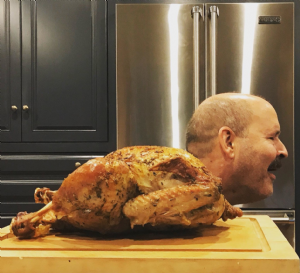 As we prepare this morning for our Thanksgiving family gathering, Elizabeth is cooking up a root vegetables storm (my favorite part of the Thanksgiving feast!) and I'm cooking up the Blog. My recipe for today's message is one part humor and one part (very) serious life lesson Gem.
First the funny part. I received this photo this morning from my cousin. As soon as I saw it I knew it had to be part of my Thanksgiving blog. But... my cousin is a well-known investigative journalist... so when I got permission to use the photo, I was sworn to secrecy... never to reveal his true identity...
I Told My Friends I Sunburn Easily, But it Was a Lie
If you've been with me here on Planet Gems for any length of time at all, then you already know about my struggle with weight gain. Actually, come to think about it, I don't struggle with weight gain. I can do it really easily!
When I was in elementary school I was always the "fat kid" in my class. In fact, I was so heavy that I dreaded going swimming with friends. I loved the water. Just didn't want them to see me without my shirt. Fact is, I never took off my shirt to swim outdoors. I told them that I sunburned way too easily and that's why I had to wear my shirt into the pool. I remember also dreading the annual trip to the nurse's station for height and weight. For all the other kids, the nurse would have them step on the scale at which point she'd tell the administrative assistant the weight to record. I was the only kid for whom she wrote the weight on a scrap of paper and slid it over to the assistant.
The weight stayed with me through Junior High School (if you're too young to know what that is, think "middle school.") Alas in my sophomore year in High School I finally figured out how to get my body into a more appropriate width to height ratio... I grew four inches taller in one year! Worked for me back then, but it's something I've been unable to reproduce since! When I graduated from High School I was 6'2" and weighed 175 pounds.
After dental school I slowly began to put the weight back on. 2 pounds one year, 3 pounds the next. It never seemed like a lot at once, until I hit my record high of 212 pounds. That may not seem like a ton (pun intended), but knowing my history as a child, it was downright scary that I was nearly 40 pounds heavier than my High School weight of 175.
A Diet that Worked Really Well for Me (Sort of)
Weight Watchers.
Progress was slow but they promised it was the sensible way to lose weight. I learned a lot. Attended weekly meetings and weigh-ins. Ate food which I'd choose from lists they shared, counting points (ultimately calories) all the while. I eventually reached my goal and became a "Lifetime Weight-watcher." That was great, until it wasn't. Slowly but surely the weight began to reappear.
Nutrisystem.
One of the most important things I learned from Nutrisystem was portion control. I had no idea that in order to lose and then eventually maintain a healthy weight, I'd have to eat so much less! Who knew? The downside of Nutrisystem was that you had to eat the food they shipped to you each week. Everything you ate arrived in a cardboard box... and most of it tasted... like a cardboard box. Lost some weight. But guess what happened as soon as I stopped eating their food?
Protein Power.
That one was fascinating. One of the many variants of the low-carb diet. Basically you could eat as much steak, burgers, sirloin tips, as you could consume and never gain weight... as long as you ate almost no carbs. Bizarre diet. It worked, but I'm glad I stopped that one. There's no way that could possibly be healthy.
Lean Bodies.
Of all the "diets" I tried over the years, Dr. Cliff Sheats' Lean Bodies was probably the healthiest. I learned a lot from Dr. Cliff. Lost the weight (again), and was able to keep it off easier than with any of my previous diets.
And then a Breakthrough...
Nearly 5 years ago my personal trainer sent me a link to a BBC documentary about intermittent fasting. The purpose of the study was not weight loss, rather, extended health and longevity as a result of the reduction of likelihood of cancer, stroke, heart disease, Alzheimer's' and more. A side benefit of the intermittent fasting... is weight loss!
The documentary is well worth watching. I'm certainly not a nutritionist and whatever you decide, check it out with your physician first. There's my disclaimer. But for me, the 5-2 Intermittent Fasting Diet has been nothing short of amazing. I was up perhaps about 15 pounds. With the 5-2 diet I was not only able to get back down to my High School weight of 175 pounds, but for almost 5 years now I've been able to maintain it.
There are no specific foods to eat, no calorie counting, no books to buy... it's just a matter of watching the BBC Documentary then choosing any 2 days per week to fast. They suggest keeping to under 600 to 800 calories for those 2 days, but I more likely eat about 1,000 or so on those days. The other 5 days you simply eat normally. Of course you can't eat 3 pizzas, 8 courses of Chinese Food, etc... but if you eat reasonably for the other 5 days, you're likely to lose weight (and possibly gain health benefits discussed in the documentary). My fasting days are Sunday and Thursday. Which Brings me to...
A "Gem" You Can Use for the Rest of Your Life
What do I do when my fast day falls on a feast day, like today, Thanksgiving?
I suppose I could just skip one fast day for this particular week, but then it would be too easy to come up with additional excuses to skip my 2 fast days. Someone's birthday, Christmas dinner, travelling away from home, etc... So instead, I fast 2 days every week no matter where I am. But miss Thanksgiving with my family! Nope.
I moved my fast day up 24 hours this week. Yesterday other than some tea and water, I ate nothing until 6 pm when I met Elizabeth at a Japanese restaurant for dinner. Has a wonderful but fairly light Japanese meal, then some Halo Top low cal ice cream before bed. My fasting is done for the week and today I'll enjoy Thanksgiving dinner with the family.
The point? Do the hard thing first. What's the one thing you know you should do for your dental practice that would have the most positive effect... but it's also something harder to do than the 50 other things you tend to do first? It's a simple concept. Do the most important things first. Even if they are the hardest. The thing you do first each day is the one thing you can be sure you'll actually get accomplished that day!
Elizabeth and I would like to wish you a Happy, Healthy, Joyous Thanksgiving and beyond.
Warm regards,
tom
Are you "just visiting" here on Planet Gems?!
Not a Gems Family Member Yet?
Would you like to
Reduce your dependence upon the Evil Insurance Empire?
Have the Gems Team and me train your team?
Enjoy increased new patient flow without spending a ton on advertising
Gain consistently higher case acceptance on a wide range of treatment
Build a smoother operating team of ACCOUNTABLE happy folks
Help your patients achieve optimal health and longevity
Work LESS and make much MORE MONEY?!
Build WEALTH and AUTONOMY for you and your family?
LIMITED TIME OFFER
1/2 OFF Your 1st Month, Normally $497.00.
YOU'LL SAVE $250.00 Pay ONLY $247
For Your 1st Month, ZERO RISK.
FIRST MONTH FULL
MONEY BACK GUARANTEE !
STEP 1. Go to www.GemsAreEasy.com/303372
STEP 2. Listen to Dr. Brown's Story
STEP 3. CLICK "JOIN PLATINUM" BUTTON
One-time offer is available only to new members (you've never been a Gems Platinum Member before). Pay only $247 for your first month. The usual $497 monthly Platinum Fee will not be charged until your second month. No continuing obligation. If you are not 100% DELIGHTED, you may cancel at the end of your 1st month and request a FULL REFUND of the $247. Platinum Membership is month-to-month. You may cancel at anytime if you are not delighted.