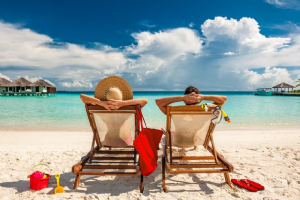 I'll never forget what Hugh told me nearly two decades ago. Hugh Doherty is one of the very few dentists who also hold the title CFP... Certified Financial Planner. Hugh told me that 95% of dentists will NEVER RETIRE to the same level of financial comfort they enjoyed while they had an active income from dental practice.
How could that be? We invest our hearts and souls into helping patients. Why is it that only 5% of us have achieved a level of financial security affording us a "comfortable" retirement... one in which we are able to maintain the same (or better) standard of living as we enjoyed during our working years? When I turned 38 years-old I had over a million dollars... in debt... was in the middle of a divorce, and nearly lost my practice and my home. At age 46 I sold my two practices and was fortunate to be in the 5% who never had to work again, unless I chose to. Is $1,000,000 enough for a comfortable retirement? How can you ensure you and your family will be in the fortunate 5% when the day comes?
How Much Is Enough?
Of course this number will vary greatly. And I'm not a financial planner. This blog post meant to A) get you thinking about what you'll need and B) get you MOTIVATED to take ACTION to MAP OUT and get on the path to a comfortable retirement.
I'm going to make a few assumptions here in order to help you get started. I'd URGE you to speak with a qualified certified financial planner (CFP) or other qualified professional. Soon. Let's assume you can generate 5% annual yield on your retirement portfolio. If you have $1,000,000 then your annual return without dipping into principle is just $50,000 per year. Assuming you OWN your home, have NO debt, NO mortgage, NO college loans, car payments or anything else outstanding... unless you live alone in a very low cost area, living on just $50,000 per year is NOT going to meet anyone's definition of a comfortable retirement.
Years ago we used to say that $3,000,000 was a reasonable starting figure (low end) for a retirement nest egg. At 5% you'd be earning $150,000 per year. Of course you'll want to speak with your financial planner to figure out what portion of that is TAXABLE... which depends upon how/when you put it away and into WHAT. If it's all taxable... that $150,000 could be whittled down to just $100,000 pretty quickly...
At $5,000,000 now you're looking at roughly $250,000 annual yield (again, assuming 5% return)... which, if you have ZERO debt including no mortgages, begins to look a bit more substantial. Nobody can tell you what YOUR number is. But it's CRITICAL that you figure out your number, map out a plan, and commence action.
How Do You Build that Nest Egg
This part is actually EASIER than most folks would think.
First, LIVE WITHIN YOUR MEANS today. That means you'll need to sock away whatever is required to meet your number within your remaining number of anticipated working years... and that amount needs to come off the top BEFORE you figure out how much you can spend (your "means"). Let's say your "number" is $3,000,000 and you've got nothing put away yet. Assume you're 45 years old and want to be able to retire at 65. You've got 20 years left to put away $3,000,000. That's $150,000 per year (and likely will be in AFTER tax dollars, though again, speak with your CFP).
The reason I say this part is easier than most would think is that 95% of the dentists we've worked with over the past 20 years on "Planet Gems" were leaving HUGE money on the table. Not nearly taking full advantage of the opportunities right there before them in their practices.
Elizabeth and I like to call these opportunities "The Low Hanging Fruit."
We've rarely encountered a practice that couldn't add $250,000 or more annual revenue... by effectively deploying just 3 or 4 of the "Low Hanging Fruit" Gems.
For more information on how to make that happen, speak with your personal Gems Concierge... or if you are not yet a Gems Family member...
Are you "just visiting" here on Planet Gems?!
Not a Gems Family Member Yet?
Would you like to
Reduce your dependence upon the Evil Insurance Empire?
Have the Gems Team and me train your team?
Enjoy increased new patient flow without spending a ton on advertising
Gain consistently higher case acceptance on a wide range of treatment
Build a smoother operating team of ACCOUNTABLE happy folks
Help your patients achieve optimal health and longevity
Work LESS and make much MORE MONEY?!
Build WEALTH and AUTONOMY for you and your family?
LIMITED TIME OFFER
1/2 OFF Your 1st Month, Normally $497.00.
YOU'LL SAVE $250.00 Pay ONLY $247
For Your 1st Month, ZERO RISK.
FIRST MONTH FULL
MONEY BACK GUARANTEE !
STEP 1. Go to www.GemsAreEasy.com/303372
STEP 2. Listen to Dr. Brown's Story
STEP 3. CLICK "JOIN PLATINUM" BUTTON
One-time offer is available only to new members (you've never been a Gems Platinum Member before). Pay only $247 for your first month. The usual $497 monthly Platinum Fee will not be charged until your second month. No continuing obligation. If you are not 100% DELIGHTED, you may cancel at the end of your 1st month and request a FULL REFUND of the $247. Platinum Membership is month-to-month. You may cancel at anytime if you are not delighted.