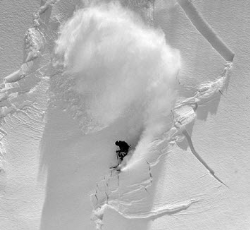 It's official. I am now six feet under. I always knew it could happen, but I never thought it would happen in my lifetime. All I can say it's a lot brighter than I thought it would be.
Unless you've been living under a rock (or stuck in a blizzard of your own), you know that Massachusetts has been pummeled by a record accumulation of snow. Six feet... and counting! I'm a tall guy, but I am literally up to my neck in it.
When you've got this much snow piled all around, you get time to do a lot of thinking. Interestingly, there are some pretty important dental lessons you can pull from an epic snow storm like this (or three epic snow storms in as many weeks).
So, in the spirit of sharing, I'll reveal one key lesson for every foot of snow:
Plan ahead. Pay attention to the forecast and stock up BEFORE the storm hits. Blizzards and catastrophic events in your practice don't just happen. You get LOTS of warning signs along the way. When you start to see the signs you have two choices:
A) You can ignore them and hope the storm blows over you (rather than blowing you over), or
B) You can prepare. I will let you know, preparation takes time --you can't cram for it. You're fooling yourself if you think you can wait until the last moment. You won't be able to get what you need when everyone else is panicking and trying to get the same resources.
Some shortcuts are expensive. Shortcuts already proven effective in the delivery of LONG-TERM RESULTS are fine... but some short-term fixes can do more damage in the long-run. Where there's snow, there's often ice. Ice makes it hard to get around. Fortunately, salt is great at melting ice. Unfortunately, salt also eats through concrete. A quick fix now can cost you thousands down the road.


Put it in perspective. The greatest disasters "make us," more often than "break us." I was on the brink of disaster both personally as well as professionally... I needed my disaster to refocus my efforts. Catastrophes gives you perspective and gratitude for what you have (I don't know about you, but after I've had it bad, I appreciate the good I have when it comes)


Enjoy yourself. Disasters are messy. When you're surrounded by a mountain of snow, it's important to take some time and have some fun. There will always be things that happen to us that are beyond our control. We can, however, control how we react to them... your attitude will make all the difference. Positive people are generally more successful.


Get to work early. Don't wait for the snow to stop falling before you start shoveling. Same thing in your practice. Problems are best taken care of as they occur. Letting them accumulate will wear you out and break your back. In fact, you'll usually spend more time, money, and effort digging out when it's all over than if you had been working a little bit each day.


Focus. Blizzards have a way of blocking your vision and preventing you from seeing what really matters most. When your survival is on the line, if you panic... you're dead. It's important to know where to apply your scarce resources and "get the biggest bang for your buck." There are a lot of places where you can expend your energy, and some have a much bigger return on investment than others. Most practices we work with are sitting on hundreds of thousands of dollars of potential. Why don't the doctors take advantage of it? They're too busy working on other things or frantically trying to maintain the status quo. More times than not they're tripping over dollars to pick up dimes. Regardless, you can only focus on the opportunities you know about.
Are you "just visiting" here on Planet Gems?!
Not a Gems Family Member Yet?
Would you like to
Reduce your dependence upon the Evil Insurance Empire?
Have the Gems Team and me train your team?
Enjoy increased new patient flow without spending a ton on advertising
Gain consistently higher case acceptance on a wide range of treatment
Build a smoother operating team of ACCOUNTABLE happy folks
Help your patients achieve optimal health and longevity
Work LESS and make much MORE MONEY?!
Build WEALTH and AUTONOMY for you and your family?
LIMITED TIME OFFER
1/2 OFF Your 1st Month, Normally $497.00.
YOU'LL SAVE $250.00 Pay ONLY $247
For Your 1st Month, ZERO RISK.
FIRST MONTH FULL
MONEY BACK GUARANTEE !
STEP 1. Go to www.GemsAreEasy.com/303372
STEP 2. Listen to Dr. Brown's Story
STEP 3. CLICK "JOIN PLATINUM" BUTTON
One-time offer is available only to new members (you've never been a Gems Platinum Member before). Pay only $247 for your first month. The usual $497 monthly Platinum Fee will not be charged until your second month. No continuing obligation. If you are not 100% DELIGHTED, you may cancel at the end of your 1st month and request a FULL REFUND of the $247. Platinum Membership is month-to-month. You may cancel at anytime if you are not delighted.